Cementitious Fireproofing

Intumescent Fireproofing

Fire Rate Proofing Paint
(For Spray Foam Insulation)
Cementitious Fireproofing
What is Cementitious Fireproofing?
Cementitious fireproofing is often referred to as spray applied fireproofing or SFRM for short. This coating is either gypsum or portland cement-based and is the most common form of fireproofing.
Fireproofing contractors will use specialty machinery to mix water and material. Then using compressed air, they atomize and spray apply the fireproofing to the correct thickness for the required rating. When the cementitious material completely dries, it forms a barrier. This coating will act as an insulator and significantly delay heat transfer. In the event of a fire this will protect the building structure from failure for the prescribed time.
Not all cementitious fireproofing is created equal, so you need to choose a product that is best suited for your project as well as the environmental conditions your building will encounter. Some fireproofing is more durable, and some are better suited for high-moisture areas. Some products are designed for conditioned spaces while others are tested for durability in freeze-thaw cycles.
In addition to the above, cementitious fireproofing comes in different densities which are broken down into three categories, low, medium and high density. Higher density materials will have different properties then lower density materials. Higher density materials may be required by code depending on different factors.
The cementitious products are the most common materials used for fireproofing services. It is a single component, spray applied, mill-mixed plaster designed to protect the structural foundation of the building from failing. This can be applied to concealed and exposed steel structures. 
What is Intumescent Fireproofing?
Intumescent fireproofing (IFRM) is a fire resistant coating that is designed to protect structural elements during a fire. When exposed to extreme heat, the material will expand 25 times its original thickness and char, creating a layer that can protect your structure for a period of time.
While significantly more expensive than spray fireproofing, intumescent can provide a beautiful finish and allow you to keep structural components exposed and incorporate them into your design. It might also be necessary to use intumescent fireproofing where there are environment considerations (e.g., heavy industry settings) or space restraints.
Care must be taken when selecting Intumescent as not all products are created equal and depending on the situation some are better suited than others.
Intumescent coatings are typically not as thick as cementitious because of their properties. They swell up when exposed to heat which ultimately slows the heating of the steel structure providing sufficient response time. It is applied as paint and has the added benefit of being used for aesthetic design purposes.
Fire Rate Proofing Paint (For Spray Foam Insulation)
What is Fire Rate Proofing Paint?
Solve Insulation is proud to offer comprehensive fireproofing services to our clients. Our team of experts is highly trained and experienced in the latest fireproofing techniques and materials, ensuring that your building is protected from the dangers of fire.Whether you're in need of fireproofing for new construction or retrofitting an existing structure, we have the expertise and resources to get the job done right. 
Our fireproofing services are designed to increase the fire resistance of your building, providing you with peace of mind and added safety for its occupants. Contact us today to learn more about how we can help you enhance the fire safety of your property.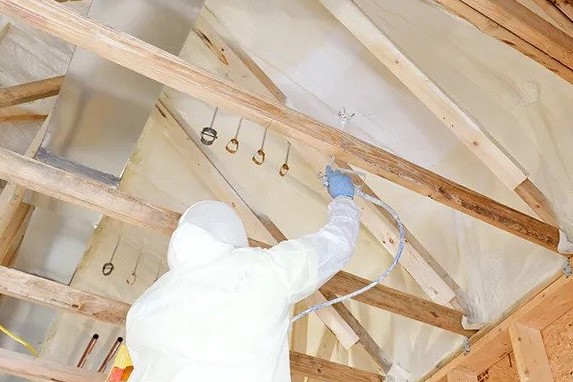 At Solve Insulation, we use the cutting-edge DC315 Thermal Barrier Paint for our fireproofing services. This advanced material is specifically designed for use with spray foam insulation (SPF) and provides an effective fire barrier that can help to slow down the spread of fire and protect your building from the dangers of fire.The DC315 Thermal Barrier Paint is easy to apply and dries quickly to form a tough, durable surface that is able to withstand high temperatures. By incorporating this state-of-the-art material into our fireproofing services, we are able to offer our clients a solution that is both effective and cost-efficient.Contact us today to learn more about how we can help you enhance the fire safety of your property.